LR: Prof. Rozina Karmaliani, Mahtab Akbar Rashidi and Prof Afaf Meleis
Pakistan now has nurses with the advanced research and clinical skills needed to solve the root causes of poor health, gender inequality and under-development in society, said experts at the International Conference on Nurses and Midwives at the Aga Khan University.
Speakers at the two-day event Nurses and Midwives: Transforming Healthcare Systems from Local to Global noted that today's nurses hold management positions in hospitals, lead research in community health initiatives across the country, advise on national and regional guidelines that shape curriculums, and conduct educational programmes that develop the next generation of nursing leaders.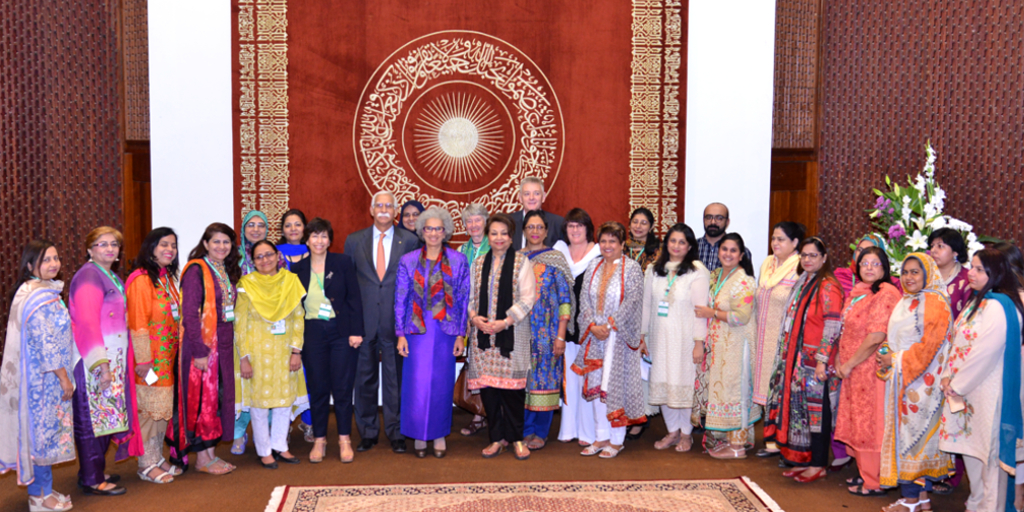 Conference Chair Professor Rozina Karmaliani stated that the breadth and depth of skills held by today's nurses and midwives are enabling Pakistan to secure the social determinants of health – the set of forces, norms and systems that shape the conditions in which people are born, grow, work, live and age – which help meet the country's commitments to the 2030 Sustainable Development Goals (SDGs).
Many of the SDG commitments primarily concern women such as maternal mortality, infant mortality, gender equality and domestic violence, she added.
In her keynote speech Uncovering Voices, Empowering Women: The Key to Sustainable Development, Dr Afaf Meleis, Professor of Nursing and Sociology at the University of Pennsylvania, expanded on this idea. She explained how major targets under the SDGs placed an emphasis on women's empowerment and how they are intimately related to nursing.

"There is a gender divide across the world that makes women socially, culturally and biologically at higher risk of morbidity, mortality and inferior quality of life. Unequal access to healthcare, unfairness in economic opportunities and the vulnerable status of many women in society opens up opportunities for nurses and midwives to support, educate and empower women throughout their lives," said Professor Meleis.
Professor Meleis added that nurses and midwives are instrumental in supporting maternal and child health goals tied to SDG 3. Beyond their medical role, their work in communities makes them aware of economic and social challenges. This enables them to apply their education in public health research to investigate effective forms of health awareness and preventive strategies which support lifelong opportunities under SDGs 4 [access to quality education] and 10 [reducing inequalities]. By boosting awareness and access to healthcare, the profession impacts gender equality and economic prospects – SDGs 5 and 8 – leading to the stability and resilience of societies sought under SDGs 9, 11 and 16.
Read full on: AKU edu
->>>>><<<<<-