Afghanistan's first women doctors specializing in paediatric surgery and pathology are among the 14 doctors awarded certificates of specialization by Mr Firoz Rasul, President of Aga Khan University and Dr Najibullah Safi, Director General, Preventive Medicine, Ministry of Public Health today.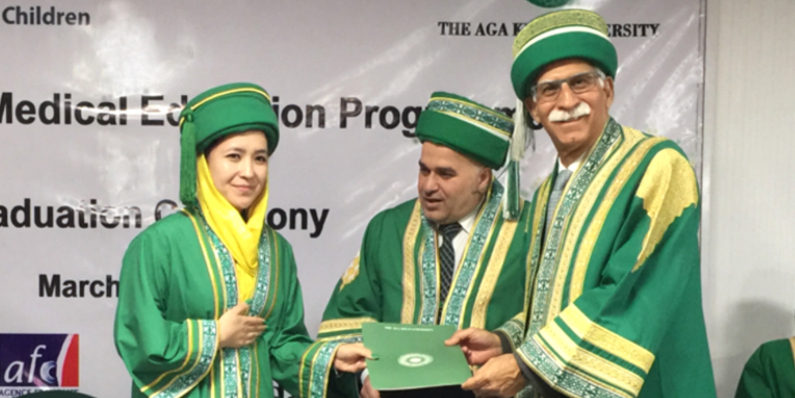 The programme is accredited by Afghan Ministry of Public Health and AKU's PGME programme
The three women, one in pathology and two in paediatric surgery are the first women fully trained in these specialities to practice in Afghanistan. In another first for Afghanistan four graduates, two radiologists, one cardiologist and one woman pathologist are becoming the first specialist doctors to be trained in these disciplines by a hospital in the country.
These specialist doctors are graduates of the Postgraduate Medical Education Programme run by the French Medical Institute for Mothers and Children with assistance from the Governments of Canada and France, who are committed to improving access to health care, particularly for women, newborns and children.  The graduates went through a programme accredited by Afghanistan's Ministry of Public Health and the Aga Khan University's Department of Postgraduate Medical Education.
"The graduation of these 14 men and women is a milestone in our effort to provide world-class health care to the people of Afghanistan," said AKU President Firoz Rasul. "Together, they will save countless lives over the course of their careers. We thank all of our partners and supporters for their contributions to FMIC, especially Government of Canada, which has provided essential funding for the Postgraduate Medical Education programme."
FMIC began providing advanced education to doctors in April 2012 with support of Government of Canada, as a way of building and strengthening the local healthcare system.
Mr Kenneth Neufeld, Ambassador of Canada to Afghanistan applauded the work of the FMIC and congratulated the graduating PGME residents. He assured Government of Canada's commitment in improving the health of mothers, newborns and children in Afghanistan.
Besides clinical training in Kabul, residents have to go through a three-month rotation at the Aga Khan University Hospital in Karachi, with exposure in advanced techniques to deal with complex cases.
In commending the graduates on their accomplishment, Mrs Nurjehan Mawani, AKDN's Diplomatic Representative acknowledged the important support provided by Afghanistan's Ministry of Public Health and FMIC's partners. "Support from our partners and donors will allow the Programme to expand: to be accessible to more women residents, to be available to residents from more provinces, and to increase the number of disciplines," she emphasized. "By 2020, the Programme is expected to have 96 residents on board at any given time and to graduate 20 specialists annually."
From Embassy of France in Afghanistan, Mr Airy Quillere, Counsellor at the Ministry of Higher Education, congratulated the graduating residents. He assured the continued support of the Government of France to FMIC as a means of strengthening and building capacity towards a sustainable healthcare system in Afghanistan.
In his congratulatory address, Dr Eric Cheysson, President of the French NGO La Chaine de l'Espoir, added, "The future of the country and of its health system lies in the training of the best practitioners in all fields of medicine. This graduation day is more than just a ceremony. It is a symbol for Afghanistan today and tomorrow, it is a message of hope."
For the graduates, it was a very special day
Dr Dunya Mughal, one of the women graduates in paediatric surgery hailing from the province of Kabul, shared her excitement in her valedictory address. "These years of residency will always be treasured and I encourage woman doctors to continue their studies and work towards specialization. Over the past four years, I have grown both professionally as well as in other aspects of life, gained lots of experience from faculty, other FMIC doctors and staff."
PGME residencies are now offered in seven disciplines – paediatric surgery, paediatric medicine, anaesthesiology, cardiology, orthopaedics, pathology and radiology. In 2017, there will be 54 doctors including five women under training. By 2020, programmes in paediatric intensive care, cardiac surgery and obstetrics and gynaecology will have been added.
The event was attended by government officials, representatives from the Canadian and French embassies, AKDN agency heads and civil society.
Source: AKU edu
->>>>><<<<<-