The UK has approved 3.8 billion pounds ($5 billion) of arms licences to Saudi Arabia, since the conflict escalated in March 2015, according to Save the Children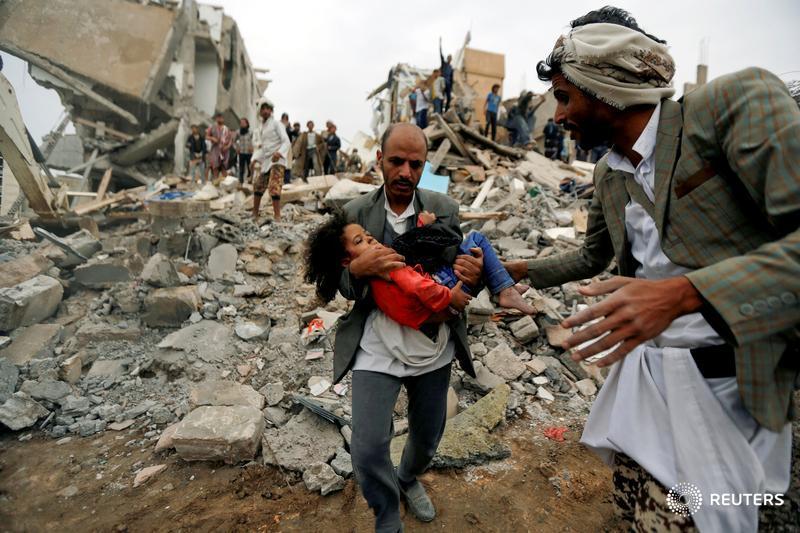 A man carries Buthaina Muhammad Mansour, believed to be four or five, rescued from the site of a Saudi-led air strike that killed eight of her family members in Sanaa, Yemen August 25, 2017. REUTERS/Khaled Abdullah/File Photo
LONDON, Sept 12 (Thomson Reuters Foundation) – A film highlighting British arms sales to Saudi Arabia that activists say are used in the conflict in Yemen has been released by charity Save the Children in time for one of the world's largest arms fairs taking place in London on Tuesday.
The provocative film "Made in Britain" calls on the British government to suspend arms sales to states in the Saudi Arabia-led coalition fighting in Yemen.
The Defence and Security Equipment International (DSEI) exhibition, which runs from Tuesday, is held every two years in London.
"For me, as a proud Brit, this is completely unacceptable," said Dominic West, a British actor who has appeared in U.S. thriller series "The Wire" and voices the short film.

"We are providing aid to Yemen, but also selling weapons which are being used in a country where children are being bombed and starved," West said in a statement.
Read more on News Trust org
->>>>><<<<<-