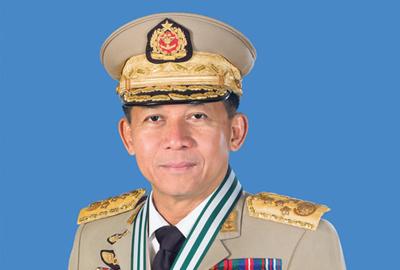 This is Min Aung Hlaing, head of the Burmese military. He is responsible for the biggest human rights and humanitarian crisis in Burma for decades.
After police stations and government offices were attacked by Rohingya militants, killing police and military personnel, instead of going after those who carried out the attacks, the military launched a brutal campaign, targeting all Rohingya people indiscriminately, even children.
Since 25th August, more than 370,000 Rohingya have fled to Bangladesh. Rohingya sources estimate 5,000 or more people have been killed, and tens of thousands of homes destroyed.
The United Nations has said that the Burmese army's attacks against the Rohingya in Burma are a "textbook example of ethnic cleansing".
The UN is investigating the Burmese military for war crimes and crimes against humanity committed in Rakhine state and against other ethnic minorities in Shan and Kachin State.
Despite this, there is still no global arms embargo on Burma.
Please email Foreign Secretary Boris Johnson, and ask the British government to support a global UN arms embargo.
Source: Burma Campaign org
A persistent myth that the military in Burma are looking for an excuse to retake direct control of the country is now being used to justify inaction over the ethnic cleansing and possible genocide of the Rohingya.
Min Aung Hlaing, head of the military, is committing ethnic cleansing against the Rohingya. We need a global arms embargo on Burma now. Take action.
While a misplaced fear of a coup is understandable given Burma's history, it misreads the current political set-up in the country. The political system in Burma now is entirely the creation of the military. It has been painstakingly designed by them to protect their interests while at the same time relieving the domestic and internal pressure they were under. It has and is working very well for them.
To retake direct control would undo more than a decade's worth of painstaking work to create the system currently in place.
This new briefing details why this is a myth and how it is used by the government of Burma and international community as an excuse for inaction.
Source: http://burmacampaign.org.uk/media/The-military-coup-threat-myth.pdf
->>>>><<<<<-